CDS set to create 130 new jobs after securing a major North Sea contract
A major new North Sea contract has been won by Hull-based offshore specialists CDS, which will see the creation of 130 new jobs.
The contract, which will involve the replacement of two flare stacks and a bridge on the Tyra East and Tyra West platforms in the Danish sector of the North Sea, is a major coup for us.
We faced competition from across Europe but our flexible approach and ability to work to a demanding programme were critical factors in our favour.
Howard Laybourne, managing director at CDS Energy Services, said: "This is a major new win for CDS, strengthening our reputation for providing cost-effective and innovative offshore solutions. After the brilliant news from Siemens this is a further indication that Hull and its locally-based companies can be competitive in the world energy sector.
"The project is technically demanding. It will involve five months of planning prior to the delivery stage which will have to be completed within a very short shut-down period.
"CDS is delighted to win such a prestigious contract and to be able to create so many new jobs across a variety of skill sectors, giving the local economy a real boost as our preference is to utilise skilled local labour."
We are one of the leading companies in our field, not just in the UK but in Europe.
Based in east Hull, in close proximity to the docks, CDS supplies project management and engineering solutions to the oil, gas, petro-chemical and renewables industries. We fought off major European competition to secure the new contract in the Danish sector of the North Sea, 120 miles offshore.
The new contract will create 25 new positions for CDS within our engineering and management departments both onshore and offshore and there will also be 105 new jobs for pipe fitters, coded welders, platers, riggers and mechanical fitters.
"The benefit of having local highly-trained offshore personnel is that their skills are easily transferable to the wind energy market. This means that local companies will be well-placed to pick up business from the offshore wind sector as well," said Mr Laybourne.
We will provide a range of services as part of the work including pre-planning, project management, detailed offshore site survey, offshore replacement of flare towers, specialist welding and safety reviews.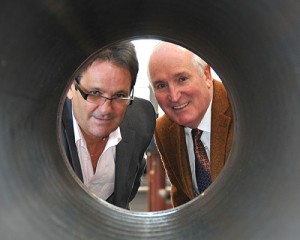 CDS is based at a large, state-of-the-art facility in the east of the city and we pride ourselves on engaging local suppliers and we have a successful track record of providing innovative engineering solutions, consistently meeting international standards.