Fabrication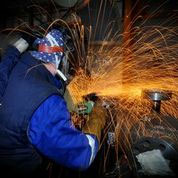 CDS enjoys an enviable reputation as one of the UK's leading fabrication specialists with a proven track record in the fabrication of all grades of carbon steel, stainless steel, conifer, Inconel, titanium, duplex, super duplex, zeron and haste alloys.
We offer over 100 weld procedures covering a comprehensive range of materials including carbon steels, a full range of austensics and dissimilar welded materials. All weld procedures are witnessed and approved by third party organisations such as Lloyds Register, qualified in accordance with national and international codes including ASME1X BS EN ISO 15614-1 (BS EN 288.3).
All work takes place at our purpose-built, three-acre site where we can offer completely segregated workshops for exotic materials within a strictly controlled environment, enabling us to carry out specialist fabrication without the risk of contamination.
Our services include:
Pipework – all sizes and grades including exotic materials
Subsea spools
Subsea clamps
Offshore structures
Skid units / manifolds
PARs
PAUs
Towheads
Platform fenders
Flare stacks
Structural steelwork
Pipe supports
NDT
Pressure testing
Heat treatment and stress relief.